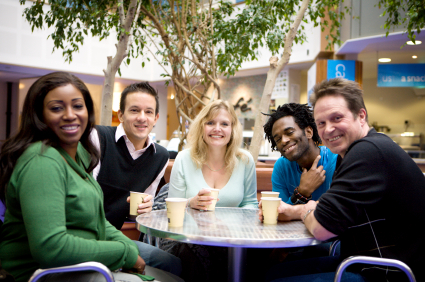 This afternoon I went to my favorite cafe. Took nothing but money, my driver's license and my car keys. Thought I'd take a time out from all things work related.
I got my iced green tea, settled into a comfy chair, and did nothing but stare into oblivion. I'm sure there were whirring blenders, a strong aroma of dark roast coffee, and a cool breeze produced by the overhead fan…I've experienced them all, many times before. But today, I just needed to chill out. I did. For a good 15 minutes.
And then I heard a voice rise from the group of people who sat at the table beside me. "What's been on your mind lately?" I heard a young woman's voice ask. I turned, thinking she was talking to me. She wasn't. She was talking to her group of friends. I turned back to my iced tea and, having borrowed her question, mulled it over for a while.
"What's been on my mind lately?" I asked myself. Posing the question to my own self made me smile. My own "answers" to the question included everything from "maybe Oregon would be a good vacation spot this year" to "I'm wondering if my own fitness regime needs tweaking?" I even thought about several business decisions I'd sworn I wouldn't bring with me to the cafe. Doing so with detachment was actually enjoyable.
After I left I realized that just exploring the terrain of my mind, without insisting that I had to do anything about what I was pondering, held the key to that enjoyment…
So what about you…what's on your mind?