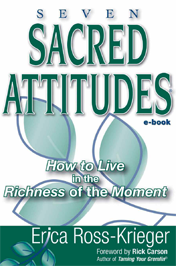 For those traveling a path of personal growth and development, here's the book no "traveler" should be without: 
Seven Sacred Attitudes®: How to Live in the Richness of the Moment.
*****************
Wellness expert, Dr. Gerald Jampolsky, M.D., says:
"Erica Ross-Krieger's words are wise, sensible and compelling. From the very first page, her profound Seven Sacred Attitudes will become an important part of your life. It is with admiration and acclaim that I recommend this must-read book to everyone desirous of adopting attitudes that heal."

— Gerald G. Jampolsky, M.D.
Author of Love is Letting Go of Fear
Founder, Center for Attitudinal Healing
$12.95
[wp_eStore_buy_now_button id=1]
*****************
With compelling stories and thought-provoking questions, author Erica Ross-Krieger encourages you to open your heart and explore your attitudes toward life. Learning the process to cultivate these Seven Sacred Attitudes will help you lead a more joyful, meaningful life:
Use Inner Wisdom
Accept What's So
Go Slow
Do Less
Show Up
Trust the Process
Be With the Questions
Each essay, fable, and story in Seven Sacred Attitudes illustrates one of the Sacred Attitudes, revealing that every step, every breath, along life's path presents an opportunity to deepen your learning. Questions help you examine—and cultivate—energy-giving attitudes for personal growth and a rewarding life.
"This engaging life manual teaches you to rely on Sacred Attitudes to nurture your inner wisdom, cultivate serenity, and allow happiness to emerge. Following Erica Ross-Krieger's simple daily process of 'Stop, Breathe, Notice, and Choose' will help you focus on the heart-centered present."

— Roger Jahnke, O.M.D., Author of The Healer Within and The Healing Promise of Qi
"As you contemplate the delicious gems inside Seven Sacred Attitudes, you will find Erica Ross-Krieger has accomplished two marvelous things: first, she reveals the Heart of a true Teacher; and second, she gives us a new model for being with ourselves, coaching others, and making our lives full and meaningful."

— Craig Carr, CPCC, PCC, Founder, DSM Life Trainings and Soulforce, Inc.
"Seven Sacred Attitudes is a compelling and inspirational book. Who can resist finding out what the Seven Sacred Attitudes are and how we can use them for healing our lives?"

— Angeles Arrien, Ph.D., Author of The Four-Fold Way and Signs of Life
$12.95
[wp_eStore_buy_now_button id=1]