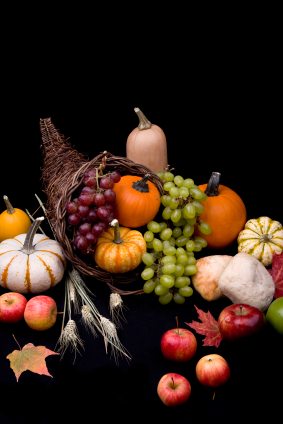 Thank you for joining us and "sitting down" to the "WellnessCoach.com table" for our annual post of Thanks, Appreciation and Gratitude. Our 2011 Cornucopia contains a list of and links to the inspirational quotes, books, music, DVDs and resources that we appreciate for having touched our lives this year. We hope they'll touch yours. Please enjoy the feast.
Warmly,

Inspirational Quotes of Thanks & Gratitude:
• "I would maintain that thanks are the highest form of thought; and that gratitude is happiness doubled by wonder." ~G.K. Chesterton
• "To speak gratitude is courteous and pleasant, to enact gratitude is generous and noble, but to live gratitude is to touch Heaven." ~J. Gaertner
• "Gratitude is a wonderful emotion. Appreciation is ten times better. Gratitude almost always points you toward the thing you've overcome. Appreciation aligns you with the Source within you. They are very different vibrations." ~Abraham; Abraham-Hicks workshop
Blogs, Posts, Presentations & Websites:
• Tim Miles' site, http://www.TheDailyBlur.com especially his quotes of gratitude: http://www.thedailyblur.com/quotes-of-gratitude/
• Gail Lynne Goodwin's site: http://www.InspireMeToday
• (From Gail's site above) Lisa Cypers Kamen's 11/11/11 post: Harvesting Happiness: Getting Yourself Unstuck to Find Your Happiness
• Evita Ochel's website and her presentation on Natural Health and Nutrition at: http://www.evitaochel.com/#services
Books, Music and DVD's:

• DVD: HappyThankYouMorePlease So uplifting! What a practice to say "thank you, more please"…we love it. If you rent this movie the first time you watch it, we just bet you'll do what we did and go buy a copy to watch again and again:)

• Book: I Am Grateful: Recipes and Lifestyle of Cafe Gratitude The owners of Cafe Gratitude have a wonderful relationship to the sacred acts of both preparing and eating organic, raw food. Even if, like us, you appreciate eating organic food but you aren't vegan, you might want to try making the "I Am Creative Pumpkin Pie" recipe this holiday season. Yum:)

• Book: The Art of Happiness, 10th Anniversary Edition:
A Handbook for Living We featured this in our free Toolkit's 2011 Wellness Coach's eCalendar this last year because of the beauty of the Dalai Lama's message – "…happiness is the purpose of life." Re-reading it again this year, we appreciated it even more…we think you'll appreciate it also.
• Music: Never Be Daunted is a fabulous song by Jaymay (from her album Long Walk to Never). We first discovered it in the soundtrack of the movie HappyThankYouMorePlease (listed above) and then went out and bought the single from itunes. We love the lyrics that ask, "…what are you so afraid of?" and appreciate Jaymay's reminder to "never be daunted." You can find the entire album in the itunes store.