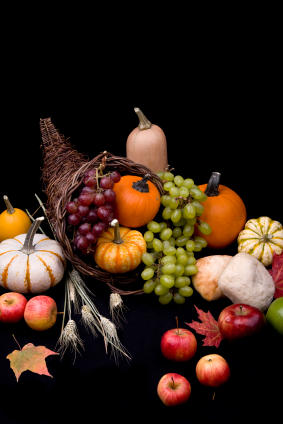 Those of us committed to deepening ourselves and learning all we can from our life journeys, are using this passage of time right now to say "Yes we can." Yes, we can focus on all we have in our lives, all we aspire to, and all we have to share and give.
In this spirit of abundance and plenty, I'll be sharing some of my 2008 harvest in the next few posts. I've gathered together some resources that have contributed to my own Well-Being this year. So feel free to dig around in the next few posts. Find just the right something within the bounty of quotes, websites, blogs, stories and snippets of thought I'll share, that will contribute to your own sense of abundance, appreciation, delight and Well-Being this season.
I give thanks for your readership, your comments, your inspiring progress you've made through our coaching sessions and teleclasses and wish you a meaningful Thanksgiving…
Today's Harvest brings this Snippet of Thought that meandered through my mind just the other day:
Simply Enough

I sat at my desk, facing my computer, navigating around the internet in total physical tension and mental overwhelm. With lightening speed, thoughts racing through my head screamed, "So much to do. So much information coming at me. So many email messages to read. So many new e-books to read, CDs to listen to, tele-events to attend, marketing actions to take. Other people are out there making giant headway…will I ever get enough new and useful information and get it fast enough?"

I did what I know to do when I hit this stage. I pushed away from my desk, took a breath, left the room, got a glass of water, and went outside.

The crisp autumn air greeted me. A sudden glimpse of a hummingbird, dancing in our red-flowering bushes, helped me forget my tension and brought an ear-to-ear grin to my face. I took a deep breath, looked up at the wide blue sky, grabbed another deep breath and stood there just Being.

Gently, a thought floated into the space of my refreshed mind…

"Wait a minute, Erica. What is the rush at your computer? You take a deep lung-filling breath of air here, not worrying about whether you grabbed enough, or worrying if there won't be enough air for you, or that someone else will get to it first, or hurrying to grab the next breath. All the air you need is right here. All around you. Why not approach the internet and information the same way. In fact, why not approach life this way?"

I stood still and appreciated this short but life-altering moment. I had a deep visceral understanding that, in this age of information, our job is to discern what we need, take it in, use it, and gently let the rest go. And just like it's not ours to worry if we get the right bite of air, or worry if we'll run out of air, or fret that someone else is getting better or more air than we are, it's not ours to try to take in every drop of information. Ahh.

I took another deep lung-full of air, stretched toward the sun, and headed back inside…forever touched by what I'd breathed in.
Are you "taking in all the air you need?" My friend, Gremlin-Tamer, and coach, Rick Carson, is fond of asking this question. When I'm not breathing, or I've squelched my breath in a moment of worry , he reminds me to take in all the air I need. How is your breath at this moment? Are you taking in all the air you need? Are you remembering that there is plenty of it available?
—–
Grab a bite of holiday coaching with Erica this holiday season. Call for an individual session or join others for the December Teleclasses, "Why Weight?" and "Sacred Attitudes for Stress-Free Holidays". Space is limited. Offices: 925-933-7445