by Erica Ross-Krieger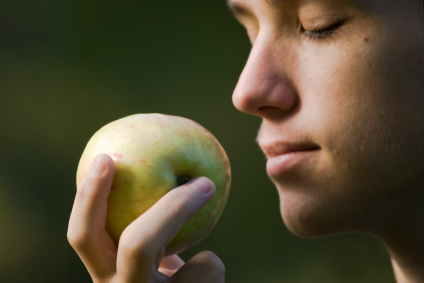 Living in the richness of the moment means we are living life and not just thinking about it. Living in the richness of the moment means taking in every luscious drop of life that's right here, just because we've been gifted with breath and just because we can. Living in the richness of the moment is also called mindfulness and I'm certainly not the first one to write about it. But mindfulness is a passion of mine, a major component of wellness in my view, and a life-long practice. And so it's the topic of this 7-post series.
In the first post, I explored the topic of Coming to Your Senses as a tool to use for living in the richness of the moment. Doing so plays a vital role in the degree to which we experience personal and professional wellness. Next, I challenged you to consider What's Important and to do so daily.
Today, I'm inviting you to Slow Down to the Speed of Life. Just in time for the weekend.
Popular Hypnotic Suggestions
In the span of one single day, I recently heard the following three statements:
"Life is so hectic these days…"
"It's amazing how the pace of Life has gotten so crazy…"
"The speed of Life is ten times what it used to be…"
I won't tell you which of those delightful phrases came out of my own mouth, but I will say this: each of the three phrases is untrue. As my mentor, (and author of Taming Your Gremlin), Rick Carson would say, these statements are subtle "hypnotic suggestions" that most of us have adopted.
The Real Pace of Life
When we stop to think about it, we can see that the pace of Life has not changed one bit. It still takes 365 days (most years) to go around the sun. It still takes however long it takes for a caterpillar to create a cocoon and turn into a butterfly. And (when you aren't stressed) your breath still comes in and goes out at the same pace it did several years ago. The building blocks of Life have not changed.
So, what has changed?
The things I've been discussing in this series: our activity levels, the amount of information now available to us, and the demands we've put on ourselves – in other words, the conditions of our lives — are all that's changed. But Life itself has not. I think this is an important distinction to remember. And when we are mindful of those hypnotic words we use, it can help us remember the distinction.

Evidence is all around us
Last year I wrote an article in my ezine with a similar title to the one I'm using on this post. And when I told a colleague that the article was called, Slow Down to the Speed of Life, she looked at me with a frown.
"But the speed of Life isn't slow," she said.
I asked her to put her hand on her 3-year-old child's chest the next time he was napping—to watch the rhythm of his breath. "To me," I said, "that rhythm is Life. And that has not changed—despite cell phones, high-speed-internet connections and the five after-school activities your middle-school-age daughter attends."
She nodded and sighed. "Hmm. Never thought of it that way."
We continued to talk and our exchange helped me flesh out the article. It also helped remind me do to so with a gentler pace. It's still reminding me to do the same as I craft this post.
So be on the lookout. The next time you hear yourself remark about the pace of Life, remember you're hypnotizing yourself and you're more than likely commenting about the circumstances of your Life.
Then stop and observe your breath for a while. And also observe a squirrel, a tree, flowers or the ocean…and you will see the real pace of Life.
Stop…Breathe…Notice…Choose™
Observing the differences between real Life, the circumstances of your Life and/or your concepts about Life, will help you remember that you have choice over the activity-level and busy-ness with which you fill your days. More importantly, you have choice about where you place your attention.
So go ahead. Just for today, practice what I call the Go Slow Attitude…and Slow Down to the Speed of Life.
Try this: Savor the Flavor Experiment

Here's a dining experiment that accentuates the Go Slow Attitude. Because it requires silence, try it the next time you are eating at home alone or where you will be uninterrupted by a waiter, waitress, or dinner companion. Hopefully you'll find the right moment this weekend.

Upon sitting down to your meal:

Take a moment to observe the food on the plate before you. With gentle curiosity, just notice the colors, textures and aromas. Give silent thanks for the food in a manner that suits you. (You will remain in silence throughout the meal.)

• Pick up your utensil and gather your first bite.
• Place that bite in your mouth and
• set your fork or spoon down and then begin to chew.
• Chew slowly. Savor every taste of that one bite. Notice all aspects of the food—flavor, texture, temperature, aroma.
• After you have swallowed that first bite, pick up your fork or spoon and gather the next bite.
• Continue the practice of mindful eating (putting down your utensil between each bite) until you are full and have finished eating your meal.
• Enjoy!
I once attended a residential retreat where we engaged in this mindfulness practice for five days, three meals a day. After putting aside my resistance (which took two days) I began to look forward to each meal. I found I enjoyed my food in a way I hadn't before, did not eat beyond fullness, and was more present to the moment before me throughout the day. Every now and again, I do the exercise simply to remind myself about the real pace of Life. I'll be joining you this weekend.
Let me know how the experiment works for you.
Table of contents for Living in the Richness of the Moment
1. Living in the Richness of the Moment: Come to Your Senses
2. Living in the Richness of the Moment: What's Important?