by Erica Ross-Krieger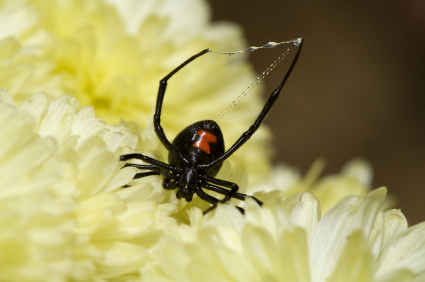 I had big plans for getting you out a post this week to help you grow your wellness coaching business. Life had other plans it seemed.
My husband was bitten by a black widow spider this week…in more than one place on his ankle. It's not pretty. It's not been an easy week. Initially, I struggled against the change in plans. Then I surrendered. Now, my commitment to making the most of what's presented to me brings me here to the page. So here's a post after all.
Those of you who've read my blog for ages, know that I'm a big fan of using metaphor. Those of you who are new here will see that trend soon enough. Today, I'm using the blessed black widow spider to help you thrive in and grow your business as a Wellness Coach. It's not a long post, and it's certainly not complicated. It's simple really. It's meant to spark your thinking, to invite you to consider…to stop just for a moment and take stock.
Business Lessons Wellness Coaches Can Learn from Black Widows & Their Bites:
• Practices To Emulate:
1.   Be committed to your territory. (Be committed to your brand.)
2.   Be prepared to defend it. (Speak strongly about what you offer.)
3.   Build a web. (Network like crazy.)
4.   Create offspring. (Create products to carry on the business when you're elsewhere.)
• Practices to Adopt & Avoid:
1.   Step out into the world. (Avoid: being a recluse & hiding out.)
2.   Forgive others, forgive yourself, play fair. (Avoid: Resentment, retaliation & biting in general.)
3.   Team up with other Wellness Coaches & form joint ventures. (Avoid: Fear of competition, being overly territorial.)
• Additional Business Lessons From Spider Bites:
1.   Sometimes you just can't plan it all. Surrender. Be flexible and open. Often what's presented to you turns out better than what you'd planned.
2.   Deal with what's right in front of you.
3.   Breathe. Just breathe.
4.   You are much more creative and resourceful than you realize. You can trust this.
We've been busy looking at ways we'll put these lessons to work for us here in the WellnessCoach.com community. We've got lots to think about and lots we're excited about doing. (To name a few: Simpler posts now and then, networking more, and building our web:)
How will you put these "lessons from spiders" to work in your business? Let us know!
To Your Wellth,
Erica