by Erica Ross-Krieger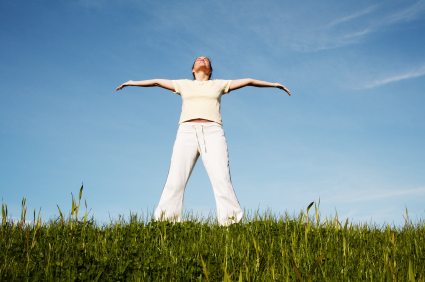 Entrepreneurs know a thing or two about stress. In fact, most of us accept the fact that managing stress and our energy is a regular part of living. We manage a gazillion facets of our own businesses, juggle schedules, and do our best to keep our stress levels down and our energy levels up. Without realizing it, you have probably put together your own tool kit to help manage your energy levels throughout the day. Browse through this list and see if there are a few more tools for you to add to your kit:
– Learn to calm your mind and body through meditation.
– Eat your meals in a relaxed environment.
– Take frequent breaks for stretching and walking throughout the day.
– Eliminate refined carbohydrates from your diet.
– Eliminate or restrict your intake of caffeine and alcohol.
– Eat smaller meals and healthy snacks throughout the day.
– Support your adrenal glands with vitamin C, Pantothenic acid (vitamin B5), vitamin B6, zinc and magnesium – do so with the addition of broccoli, whole grains, salmon, sweet potatoes and legumes to your diet, or see a nutritionist for the supplement levels that will serve you best.
– Consider adding a high quality ginseng supplement to your regime, either Chinese or Siberian, to support your adrenal function and help your body's resistance to stress. One valid approach is to take ginseng in a cycle of 2-3 weeks on and 2 weeks off, to give the adrenal glands a rest from the ginseng. Educational literature tells us to be alert for signs of possible ginseng toxicity, including nervousness, restlessness, and insomnia. Each person responds to ginseng in a unique way so starting with a low dose is the rule of thumb listed in most supplement manuals. As always, consult a health practitioner for the appropriate levels for you.
– Decrease stress and increase energy by learning to breathe with the diaphragm. Take breaks throughout the day and do so purposefully. Sit comfortably, both feet flat on the ground, eyes gently closed. Inhaling though the nose and exhaling through the mouth, place one hand on your belly and the other on your chest. Pay attention to the breath and focus on the hand on your belly. Inhale for a count of 4 or 5, filling the belly and expanding it so your hand rises about an inch. Pause for a count of 1 or 2. Exhale to a count of 4 or 5. Keep focused on the breath and repeat the process. Do so until you have reached a level of both relaxation and refreshment. Aim for 5-20 minutes a few times a day.
– Go for a brisk walk – with or without your ipod or mp3 player.
– Organize your office and life with the zen-like wisdom and help of David Allen's book, Getting Things Done.
For more tips, you can also check out the article, "Your Guide to Never Feeling Tired Again" posted today on the WebMD site. Author Nancy Rones gives you 22 more ideas for enhancing your energy.
Post a comment and let us know what you do throughout your entrepreneurial day to stay energized and stress-free.