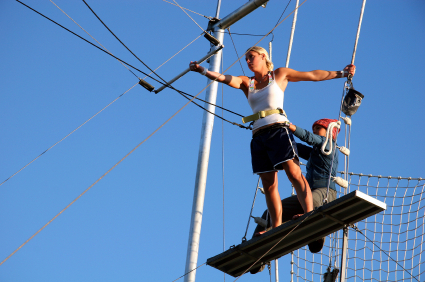 In the previous post of this series, I invited you to clear the decks and Do Less. Today's post is designed to further your thinking about Living in the Richness of the Moment by exploring another wellness tool: the powerful act of trusting the process of life.
Flip Side of Trust
First, let me say a bit about the flip side of the trust coin. One of the key ways we rip ourselves off from living in the richness of the moment is by engaging in worry, doubt, and fear. And there is nothing that tends to bring those creatures of the mind to the entrepreneur's foreground more than: being in-between projects or contracts (a common state); or having to face the unknown or tackle something we know little about (part of the definition of entrepreneur in my book.)
When that all-too-common "messy" space of the unfamiliar and unknown enters my business, or my daily life, and taxes my "trust" muscles, I take comfort in a story from long ago. I put the story in an essay and offer it here as food for thought:
A SAFE ADVENTURE*
by Erica Ross-Krieger

When I was eight, we took a family vacation to Disneyland. I'd been before and I looked forward to seeing the Magic Kingdom again.

When we arrived, I ran through the entry gates and hugged Mickey. Throughout the day, I found Disneyland to be as wonderful as ever. Well into the night, Disneyland kept its promise of magic. But things had changed since our last visit.

As we walked toward my favorite ride, a small but distinct sign grabbed my attention:

Welcome!
Please excuse our mess—
This attraction is being completely refurbished.

A brightly colored drawing of Mickey, sporting a pair of carpenter's overalls and holding a hammer and nails, illustrated the message. The captivating sign helped me add a new word to my vocabulary. Refurbished.

My Dad gave a further explanation and then herded us into line. We endured a forty-five-minute wait with other kids and families who weren't put off by Mickey's warning.

When we got inside we overlooked the boards, the scaffolding in the background and the strips of yellow plastic tape that sectioned off the work zones. We were excited to get to the front of the line and to hear the familiar music.

I guess we trusted Walt Disney. Despite the refurbishing signs, we climbed right into those little wooden boats. Off we went, expecting nothing less than a grand time. And that is what we had.

When we got out, we talked about the magical characters, the music, the swift rapids that the boats navigated, and how we couldn't wait to come back. We trusted that any Disneyland ride being refurbished, no matter if it looked messy right now, would somehow turn out to be an even better ride when we came back…even if it looked different from what we'd known. After all, it was the Magic Kingdom.

So I wonder, why don't we sit back in our midlife or entrepreneurial boats and trust the "Magic Kingdom" of life?

*This is a modified version of the original essay that appears in Seven Sacred Attitudes®
When I view spaces of transition or the unknown in the same light as a Disneyland "refurbishing" experience, they seem less daunting. Seen in this light, I am much more able to relax into this entrepreneurial and wellness journey of life, and so are my clients. Seen in this light, we may even be able to enjoy the ride.
INQUIRIES FOR THE DAY:
• What is it to view entrepreneuring as a safe adventure-vehicle in the "Magic Kingdom"?
• What would change if you were to trust that you are "right on schedule"? (…with your business, with your wellness, with your life.)
• When something has you baffled, and you can't figure it out, what helps you relax into the unknowing?
• If you Trusted the Process, what new adventures would you try?
Keep us posted.
Table of contents for Living in the Richness of the Moment™
1. Living in the Richness of the Moment: Come to Your Senses
2. Living in the Richness of the Moment: What's Important?
3. Living in the Richness of the Moment: Slow Down to the Speed of Life
4. Living in the Richness of the Moment: Do Less