by Erica Ross-Krieger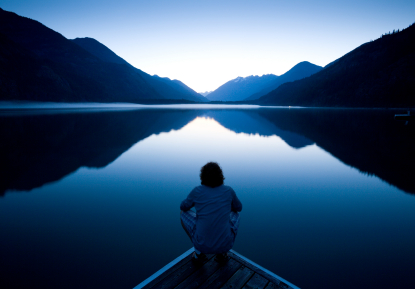 Only We Know What's Best for Us
The best wellness advice I ever received came in the form of questions for me to ponder…questions that helped me uncover my own truths.
As a wellness coach, there is no input I can provide here for you that is more appropriate than the wisdom you'll receive by checking in with your own body, mind, and spirit. Ultimately, you must decide what is best for you. I believe this is true regardless of the source of any external advice.
Take Time to Go Within
In the spirit of quiet contemplation that the peaceful image above inspires, take some time out to look at your current level of wellness. Explore what you really need in each area mentioned below and let that information gently direct you to take appropriate action or non-action. Allow your body, mind, spirit and heart to speak to you.
I like to go through this gentle process of self-exploration each spring and let the natural healing forces and wisdom within go to work. Enjoy!
SPRING WELLNESS INVENTORY
PONDER THIS…

1. ASK YOUR BODY:

What areas of you need my attention?
Which foods would nourish you?
What forms of rest, recreation or replenishment do you want today, this week, this month, this year?
Do you need additional tools for rest and relaxation?
What activities would you enjoy at this time?
Are there any new healing/wellness modalities you want to experience?

2. ASK YOUR MIND:

What is intellectually stimulating and engaging for you?
Do you get enough of this?
How can I give you more of what you need?
Do I need to provide you with more rest?

3. ASK YOUR SPIRIT:

What helps me feel connected with my source?
What is my spiritual anchor, compass or rudder in life?
What daily/weekly practices serve my spiritual life?
What things make my soul sing with appreciation for Life?

4. ASK YOUR HEART?

Who do I consider to be my "tribe"?
Who is in my closest inner circle?
Who do I love?
Who do I count on?
Who knows my heart?
Where am I expressing love?

5. ASK YOUR SELF OVERALL:

What can I do to further your greatest expression?
Where have I abandoned you?
What am I pretending not to know about you?
How can I love you?
Hope the pondering leads you to new layers of awareness. Love to hear what you discover!