by Erica Ross-Krieger
As entrepreneurs, the studies may be right and we may have to manage ambiguity and the potential for anxiety that comes with the territory. We may have a statistically increased likelihood of dealing with stress-related health challenges. But the good news is: there are many avenues and options available to us in our on-going wellness journeys.
From a wide array of meditation practices, nutritional supplements, exercise programs, and health practitioners (that range from chiropractic and acupuncture to therapeutic massage and osteopathy), the possibilities are endless. Of course, endless possibilities mean making decisions.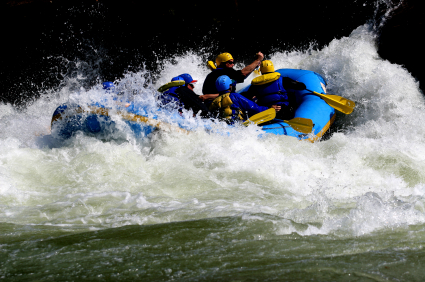 Lest those endless possibilities have you drowning in indecision, I hope today's post serves as a lifesaver.
*****************
Back in the day, (while in his 20's), my husband, Steve, was a commercial whitewater rafting guide with a company called All Outdoors (AO). Thirty years later, the love of rushing rivers still runs in Steve's blood. And even though he runs two entrepreneurial businesses, he makes time for an annual whitewater trip to soothe his soul. Rafting's a big part of his wellness equation.
Steve has his own whitewater raft and gear and takes a group of friends down the South Fork of the American River each summer. When he does, it's a full-blown professional event. By that I mean it isn't a bunch of guys with cans of beer playing around on the river without a clue. Nope. Steve is still the consummate rafting professional and runs his day-long adventures for his "crew" the same way he would have on a commercial trip with AO.
With a healthy respect for the power of Mother Nature, Steve feels quite strongly about safety on the river. While the inflated raft sits ready on the river, he has his crew stay shore-bound and listen to his "Safety Rap." No one gets a paddle until they have life vests on and know exactly what to do in the event of a whitewater emergency.
One of the most important tips Steve gives in his "Safety Rap" is this:
"If the boat flips and you fall out of the raft, you could come up under the boat. If so, put your arms overhead, against the bottom of the raft. 'Walk' your hands along the bottom of the boat – but pick one direction and stick with it until you come out to one side. It's a 16-foot raft and it can seem endless and overwhelming. If you go back and forth without ever choosing one direction, you'll never come up for air. Remember: we can't pick you up unless you do." – Steve Krieger, from a recent rafting trip
When it comes to your wellness program (or your own business for that matter):
Where are you drowning in indecision?
If you just put your hands up against the bottom of the boat, which direction will you choose right now?
When will you take action?
Pick one small step. Take it soon. Then climb into the blog boat and keep us posted.