by Erica Ross-Krieger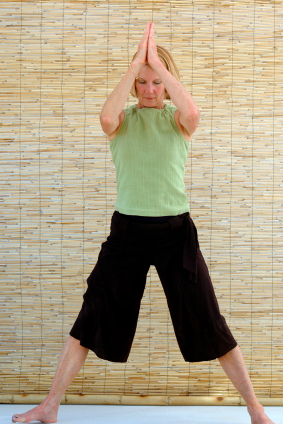 Welcome back to my Wellness Product Review Series. In the prior post of the series, I reported from the Nutrition Front with a review of the Detox Diet (the book and the plan itself.) Today, I'm reporting from the Fitness Front.
As a reminder, here is the key to the rating system I use:
☺ ☺ ☺ = Great product. I'm using it and love it. Go get it.
☺ ☺ = Good product. I'm using it/own it. You might want to try it.
☺ = It has merit, but I'm not personally using it. Use with caution.
☹ = Don't bother.
REVIEW FROM THE FITNESS FRONT:
You'll love adding this gentle yoga program to your day…especially if you spend a good portion of it either on your feet or hunched at a computer:)
DVD: "Yoga to the Rescue" with Desiree Rumbaugh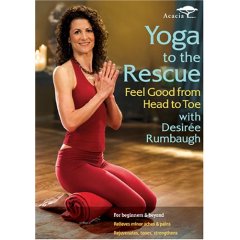 Product Description: "Relieve your aching neck, back, shoulders, wrists, and feet with this gentle yoga practice…these simple exercises stretch, strengthen, and massage joints and muscles from head to toe, leaving you refreshed and restored." From the Acacia website.
Price: $14.99 U.S.
Routine: Approx 60 min.
Available at: Acacia website, amazon.com and Borders
WellnessCoach Assessment:
Good for all levels, from beginners to advanced yoga practitioners. Especially friendly for those who have low flexibility or fitness levels or have shied away from yoga because of chronic pain. Good for a mid-day break when you spend hours at the computer, as well as a refreshing way to start or end the day. Instructor is experienced and has an engaging teaching style. As with all fitness regimes, check with your health practitioner to see if this program is appropriate for you.
My Personal Experience:
I absolutely love the yoga routine on this DVD. Even though I've practiced Chi Gong and done gentle yoga stretches for years, I like to add new routines to the mix now and then – but I'm fussy. The movements have to be gentle enough for me to take care of my back and yet provide a routine that helps me strengthen my joints and muscles. This one does both and truly does what it says – leaves me refreshed and restored. I enjoy Desiree's approach and finish the DVD looking forward to the next time.
Overall Rating: ☺ ☺ ☺
Special Note: I just discovered that Desiree Rumbaugh will be at Borders Bayside Commons location in Burlington MA for in-store demonstration and signing of the DVD on February 10th at 4pm ET
Stay tuned: next up in the series I'll review an environmentally-friendly cleaning product your carpet and spills shouldn't be without:)
Got Wellness Products You Recommend? Let us know!