by Erica Ross-Krieger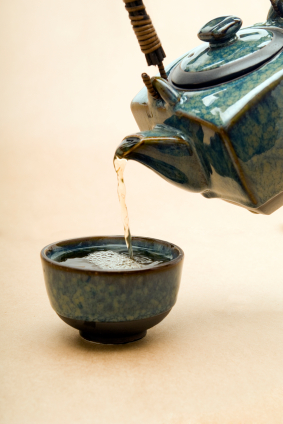 Welcome back for the next installment in my Wellness Product Review Series. Last week, I reported from the Fitness Front with a review of the Yoga to the Rescue DVD. Today, I'm reporting in with a short snippet from the Healthy Food and Beverage Front. (Just a moment while I take a sip of tea here…. Ahh.)
Okay, here's a reminder of the rating system I use in this series:
Rating key:
☺ ☺ ☺ = Great product. I'm using it and love it.
☺ ☺ = Good product. I'm using it. For now.
☺ = It has merit, but I'm not personally using it. Use with caution.
☹ = Don't bother.
REVIEW FROM THE FOOD & BEVERAGE FRONT:
If you're a green tea lover, and also keen on getting an extra share of super antioxidants from acai (ah-sigh-ee), this just might be your new favorite tea.
Acai Green Tea by The Republic of Tea®

Product Description: "Acai berry is one of the most nutritious fruits in the world. For centuries, inhabitants of the amazon rainforest have gathered these berries from the acaizeiro palm tree for their powerful health benefits. This deep purple fruit has the rich flavors of concord grape and ripe blueberries…Green tea has been revered for centuries in the Far East for its health-enhancing properties." Republic of Tea®
Price: $9.50 U.S. for 50 Tea Bags
WellnessCoach Assessment:
Acai, a "superfruit", is rich in the antioxidants known as polyphenols. So is green tea. Putting the two together was brilliant on the part of the Republic of Tea (and no, I'm not paid to endorse them:) You'll find tons of research that shows these polyphenols will help guard the body against the harmful molecules known as free radicals (which can cause heart disease, premature aging, and certain forms of cancer.)
My Personal Experience:
I've been drinking this tea fairly consistently since I got it last month — say an average of 2-3 cups a day. I like the flavor – a bit tart and a bit sweet. I don't use a sweetener in it, but I don't use one in any tea. It tastes heartier than straight green tea, and if you've ever had straight acai juice, you know what I mean. (If not, you can buy straight acai juice at the health food store and test it out…and let me know what you think.)
Anyway, since I'm a plain-green-tea lover by nature and don't always want the addition of the acai flavor, I stick to straight green tea in the morning and sip this tea throughout the day. I like that this Acai Green Tea gives me a double dose of antioxidants, so I plan on keeping it in my weekly tea regime for now.
Overall Rating: ☺ ☺
Stay tuned: next in the series, I'll review an environmentally-friendly cleaning product your carpet and spills shouldn't be without. I know I said I'd do it this time, but cold weather blew in and a mug of the tea was calling my name…you know how it is:)
Got Wellness Products You Recommend? Add a comment and share!