by Erica Ross-Krieger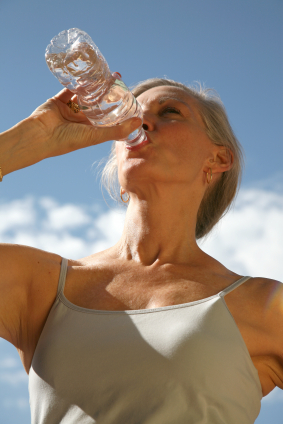 Welcome to the second post in this latest product review series. Today, I've reviewed a second DVD in the Mayo Clinic/GAIAM Wellness Solutions series from the GAIAM catalog. While the product I reviewed in the prior post is a helpful wellness tool for those with chronic back pain, this product is a breath of fresh air for those of us entering, or currently dancing with, menopause.
Menopause came knocking on my door seven years ago. (Actually, banging on the door was more like it.) Since I was in my early 40's at the time, she was an unexpected visitor. But I have since learned that mine was not an unusual age for hosting such a visit!
I have been fortunate enough to work with a great naturopath and nutritionist, as well as an acupuncturist, and am quite pleased with the results and my relationship with this powerful stage of my life and all it brings to me. That said, I am always looking for ways to strengthen my relationship with menopause. Which is why I was excited to test a new resource and am delighted to be able to share it with you.

Mayo Clinic's Wellness Solutions for Menopause
Product Description:
"Mayo Clinic, one of the top medical centers in the country, and GAIAM, the health and wellness experts, team up to bring you this groundbreaking, integrated health action plan designed specifically to help you become attuned to your body during this transition."
– from the product's back cover

Contents: DVD (90 minutes) and BONUS: 52-page My Stress Solution booklet.
Price: $20.00 U.S.
WellnessCoach.com Rating key
☺ ☺ ☺ = Great product. I'm using it, love it and I highly recommend it for those who seek a wellness solution to the issue or condition the product addresses.
☺ ☺ = Good product. I'm using it, or parts of it, for now, and/or if it addresses a wellness need you have, definitely consider giving it a try.
☺ = It has merit, but I'm not personally using it. Use with caution.
☹ = Don't bother.
WellnessCoach Assessment:

For women who want an integrated approach to embracing the life transition from peri-menopause through menopause, this DVD supplies helpful resources and information. The Mayo Clinic team teaches that menopause is a natural life stage and not a medical disorder, which is a sound and accurate point of view.

By the end of the DVD, you will have met knowledgeable and caring experts, learned nutritional tips for eating well at this phase of life, taken a refreshing meditation break and had a restorative yoga session. The bonus booklet, My Stress Solution, gives tips for managing stress, which is critical for keeping your body healthy during times of transition. (As with any program, be sure to consult with your doctor to be sure this program is right for you.)

Strengths of the product/content:
1. Philosophy that menopause is a natural stage of life.

2. Integrated approach (expert information, tips for healthy diet, gentle and restorative yoga and meditation)

3. The My Stress Solution booklet is comprehensive and since managing stress is extremely valuable during menopause, this is a great tool. It's almost identical to the bonus booklet in the above reviewed product, but the inside front and back covers have important notes specific to menopause in this case.

4. Dr. Lynne Shuster, M.D. is awesome. She is knowledgeable, warm, and an approachable expert. She is a great addition to this DVD and provides the core medical and emotional information. Because she is a woman, and either at or nearing this stage of life herself, you might feel like I did which is that you'd like to have her along for the duration of this transition.

5. The dietitian in this DVD is also a woman, seeming to be at or nearing this stage of life as well. She provides solid and helpful tips for a plant-based diet and dietary healthy choices during menopause.

6. Yoga expert, Colleen Saidman, guides you through meditation and restorative yoga and does so with the compassion of someone who understands the terrain of the menopause transition. The yoga session was filmed in a beautiful setting, gentle music is in the background, and you feel like you are actually taking an outdoor, lakeside class with Colleen.

7. The DVD (as is each of them in this series) is presented in eco-friendly packaging.

Weaknesses of the product:
1. While I appreciated the welcome and overview by Mayo Clinic's Dr. Brent Bauer in the prior product I reviewed, I had a different reaction to his introduction on this DVD. I honestly would have preferred the welcome to come from Dr. Lynne Shuster.

I just had a hard time hearing Dr. Brent Bauer tell me how menopause is a natural part of life. It felt a bit like having my Dad, uncle, or brother tell me about menstruation (which they didn't) rather than my Mom, aunt, or big sister. Call me old fashioned or even gender-biased if you will, it's just my preference to hear about changes to my female body from other women.

2. I have a small dislike for the terminology used to describe Part 1. It is called: Understanding Your Condition. I don't think of menopause as a condition like I do back pain or arthritis. I'd rather it was called: Understanding Menopause. Not a big deal, but not exactly aligned with their philosophy that menopause is a natural change.

3. The eco-friendly packaging used for all the DVDs in this series presents the same dilemma it did in the above review – great for the environment but can potentially scratch the DVDs. Be careful when removing the DVD or placing it into the package.

My Personal Experience:
I wish I would have had this program right from the start of the menopause transition – it was seven years ago when peri-menopause was first dancing through my life and having this DVD then would have been helpful. But it still is relevant to the stages I'm in right now and I'm grateful I came across the DVD.

Because of my experience with the first product I reviewed in this series, I knew to watch this DVD in its entirety the first time through, without participating in the yoga or meditation right away. This let me see what props were needed and gather them ahead of time.

As before, Part 1 contained the overview of Mayo Clinic's integrative approach. This DVD also contained an outstanding discussion by Mayo Clinic expert Dr. Lynne Shuster, who presents the physiological and psychological components of menopause, hormone therapy options, and a reminder that each woman will experience menopause in a different way. I really enjoyed listening to her and took a few notes to share and discuss with my own health care practitioner.

While the dietary information in Part 2 wasn't new to me, I liked the presentation (plus the dietician is close in age to me and so her credibility to discuss menopause was strong). Additionally, Dr. Donald Hensrud of the Mayo Clinic "took me grocery shopping" to choose healthy foods (as he did in the Back Care DVD.) I only wish he could have done my actual shopping☺

The yoga and meditation by Colleen Saidman was refreshing. I did it first thing in the morning and liked how it eased me into the day. I modified a few of the poses to accommodate my back and my specific physiology. I already do yoga, but there are a few restorative poses that I'll work into my routine.

I liked pretty much everything about this DVD — from the expert information to the soothing meditation, the music, the peaceful settings, and the bonus stress management guide. This will still be useful to me for many more years to come and also a nice gift for my baby-boomer friends.

Overall Product Rating: ☺ ☺ ☺
Hope you have found the last two reviews helpful in your own wellness journey, or for the someones who are close to you. Let me know your own experience of the products when you have a minute.
What else have you found helpful in your own wellness journey?