by Erica Ross-Krieger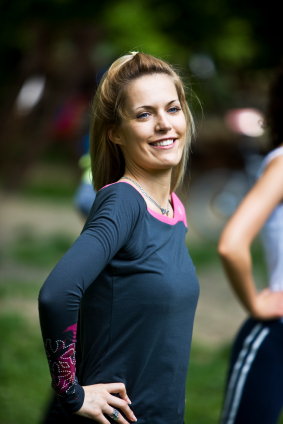 Here's to wellness…in body, mind and spirit! In this 2-post series, I've reviewed two new Wellness Tools for you. I've tested, tried, read, watched and reviewed both products thoroughly. I'll be giving you my professional and personal experience and provide an overall rating for each product.
As I've done before in this blog, I'll be using the following key:
Rating key
☺ ☺ ☺ = Great product. I'm using it, love it and I highly recommend it for those who seek a wellness solution to the issue the product addresses.
☺ ☺ = Good product. I'm using it, or parts of it, for now, and/or if it addresses a wellness need you have, definitely consider giving it a try.
☺ = It has merit, but I'm not personally using it. Use with caution.
☹ = Don't bother.
Overview of the Products Reviewed:
The two products (both DVDs) you'll learn about in this 2-post series come from the Gaiam on-line catalog, a source I use and trust for selecting helpful wellness tools. Gaiam has teamed up with the Mayo Clinic to produce a new series of DVDs: Wellness Solutions from Gaiam and Mayo Clinic. Let me give you a brief snapshot of the Wellness Solutions series overall.
At the time of this review, the series contains 10 products. Each one focuses on a different chronic condition, from Arthritis to Fibromyalgia. They all feature integrated health action plans designed to help you manage health challenges and take charge of your health.
Each DVD in the series begins with 30-minutes of conversational presentations by several Mayo Clinic Specialists. Next, a Mayo Clinic dietitian teaches what to eat and what to avoid with respect to the specific condition that the DVD addresses. Finally, a yoga expert guides you through a 40-minute yoga segment, containing condition-specific relaxation poses and meditation exercises.
I've selected the following DVD for the first review:

1. Mayo Clinic's Wellness Solutions for Back Pain
Product Description:
"Mayo Clinic, one of the top medical centers in the country, and GAIAM, the health and wellness experts, team up to bring you this groundbreaking, integrated health action plan designed specifically to relieve back pain."
– from the product's back cover

Contents: DVD (93 mins) and BONUS: 52-page My Stress Solution booklet.
Price: $20.00 U.S.
WellnessCoach Assessment

This DVD is a wonderful tool to help you cultivate better health and supplement your current back care program. The information, dietary tips, and back-health specific yoga stretches are expertly presented. And the bonus booklet, My Stress Solution, makes this a truly integrated program. (As with any program, be sure to consult with your doctor to be sure this is right for you.)

Strengths of the product/content:
1. The integrated approach is comprehensive (expert information, tips for healthy diet, gentle yoga and meditation)
2. The My Stress Solution booklet contains a thorough stress management action plan including stress assessments, and relaxation tips. It's easy to understand and use, and contains a 1-page summary of the key tips presented on the DVD.
3. Dr. Bret Bauer presents a warm, personable, and expertly informative overview of the Mayo Clinic's integrative treatment approach.
4. The detailed physiological information about back care and back pain are thorough and yet easy to understand.
5. The Grocery shopping tips for selecting nutritious foods convey the importance of making healthy choices.
6. The dietitian gives helpful tips for portion control and an overview of a plant-based diet.
7. Rodney Yee is a nationally known yoga instructor and having his participation here further adds to the value of this program. The poses are great for beginners and more importantly are specific to back care and stress relief.
8. The DVD is presented in eco-friendly packaging.

Weaknesses of the product/content:
1. While the dietitian presents absolutely impeccable and expert advice, she appears to be quite young and this may be an obstacle for some in accepting her credibility.
2. The eco-friendly packaging can potentially scratch the DVDs. Be careful when removing the DVD or placing it into the package.

My Personal Experience:
As someone whose back has been through many challenges, I've been a big proponent of healthy back strategies for many years. I was excited to try this program.

I watched the 3-part DVD in two stages.
First I watched Parts 1 and 2 for information. I got a solid overview of the integrative approach and Mayo Clinic experts discussed back care physiology, options, dietary strategies and food selection tips.

As a nutrition educator, the dietary information wasn't new to me, but I enjoyed the presentation and found it to be affirming of what advice I follow myself. While I do eat a blood-type diet for a Type O, (I consume grass fed beef and organic free-range poultry), overall, my diet is predominantly plant-based as the DVD suggests it should be.

I liked that alternative approaches to back care, such as acupuncture, were also included in the strategies presented, as it fits with my belief in integrated programs. Parts 1 and 2 left me feeling very informed and ready for part 3.

I watched part 3, the yoga and meditation segment, later in the day.
I changed into my sweats and carved out 40 minutes for a yoga and meditation session, and followed along as I watched Part 3 (Soothing Therapies).

The meditations were peaceful. For the yoga component, I had my yoga mat in place, but I had to stop a few times throughout and go grab a few props from around the house. These included 2 blankets, a yoga strap and a yoga block to sit on. A better strategy would have been to watch the whole routine first and then I'd have known what I needed. The poses were gentle and felt great on my back. Some of them were new to me and I liked that.

I spent some time the following day, using the Bonus My Stress Solution action guide booklet. The assessments are good tools for evaluating stress levels and coping styles, and I got some good feedback. I liked the last page summary of key tips on the DVD.

I plan on keeping the yoga stretches in my daily stretching regime and keeping the booklet for future reference. Since my diet is already aligned with the suggestions, and I already use the modality of acupuncture, I figure I will stay the course. I also know what my brother, who sports a chronically challenged back himself, is getting for his birthday:)

Overall Product Rating: ☺ ☺+
Tune in on Thursday this week for a review of another DVD I'm testing out in this series, Wellness Solutions for Menopause.