by Erica Ross-Krieger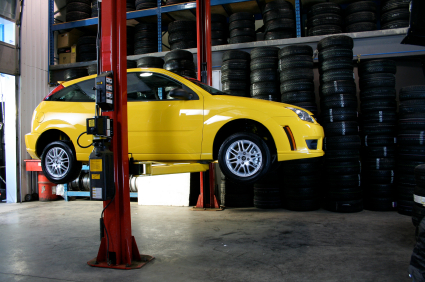 While standing in line at the UPS store recently, I browsed through the greeting card rack near the counter. I glanced at a few Birthday cards, spun the rack, and in the "Retirement" section, came across a card with a photo similar to the one here – a car in the shop getting new tires. No message on the outside of the card, just the photo. I opened it up. The inside message read: "Look at this phase as a chance to do some Re-Tiring! Congratulations!" I couldn't think of anyone I knew who'd be retiring soon, so I bypassed the card, but the image and sentiment made me smile and got me thinking…
Since this blog is dedicated to wellness for entrepreneurs – no matter which phase of entrepreneurship we are facing – I want to be sure to cover all those phases we face or will face. The posts so far have been geared toward new and seasoned entrepreneurs, but I really haven't tackled the issue of retirement yet. So this week, I contacted one of the best authorities I know on the subject of retiring well — my friend and colleague, Dr. Peller Marion.
Peller is a successful entrepreneur who counsels entrepreneurs and others about their businesses and about retiring well — she is also a role model of someone who is in process of retiring well herself. Practicing what she preaches, Peller spends her retirement time teaching part-time at Dominican College, doing yoga and swimming, writing, and counseling others when the spirit moves her. I asked her what she had to say about the retirement phase of entrepreneurship and she sent me the following article for today's post. Read and enjoy and/or pass along to an entrepreneur who wants to retire well!
Retiring Well: Crafting A Nourishing Retirement
by Peller Marion, Ed.D.

My dad used to take out his violin on the weekends, tune the strings, and practice for hours on end. He played the songs of the big bands: Glen Miller and Guy Lombardo. His weekend music was as familiar to us as the suppertime stories he told about how he once had an orchestra that performed on the radio in the early thirties. Those performances were how he made his living before he met my mother one summer evening, while playing music in the Catskills. Music was in his blood. But after he married and had kids, my dad went to work for the post office. Once he said, "It's rare for a person to combine their vocation and avocation." It all felt very romantic and sad to me. He died having pursued his vocation and his retirement with his music still left inside him.

My dad wasn't an entrepreneurial spirit. Had he been, maybe he would have found a way to bring his passion for the violin into an entrepreneurial venture. And maybe that passion would have carried over into his retirement so he could have retired well. But there are many people who are entrepreneurs who still don't retire well.

Some spend their lives working extremely long hours, so when they do retire, it's like being let out of a self-made prison. They hit the retirement ground running. I have a friend like that, who, five years into retirement, is still a force of nature, unstoppable doing all the things that she'd put on hold while she had her business.

There are others who retire and find their days stretch like vast wastelands. They'd gotten used to so much busyness in their entrepreneurial lives that when set free, their identity becomes lost. They're adrift.

I believe there is a way to retire well — a way to work long into our sixties and seventies, eager to continue to experience the fulfillment that our entrepreneurial work brings us, but working less and slowly phasing in those new things we want to learn. It starts with understanding and appreciating what this phase of life offers us.

While the first half of our lives was all about acquisition — finding the right work, the right partner, and raising a family — the second half of our lives is about divestiture — simplifying, focusing, pacing, and redefining what success means at this new life stage. It's a more respectful view of retirement as far as I'm concerned.

And since the word and concept of "retirement" is popularly seen as "the next to the last chapter" in our infatuated-with-youth-and-energy culture, I suggest we take the more respectful view. At parties, when people ask you what you do, and you say, "I'm retired," you have no doubt seen them avert their eyes and scan the room to find someone else to talk to. Instead, I like to say, "I've cut back to find my voice", or "I'm discovering my creative abilities", or "I'm going on some adventurous inner and outer journeys." It makes for great conversation and helps me affirm the riches of this life phase.

So, just as structure defined me in my entrepreneurial career life, non-structure plays a defining role in my retired life now and is healing in itself. I look at my appointment book these days and I'm delighted to see that I have the whole day free to do as I please. Not beholden to clients or contracts, I live on my own terms.

Each day I ask myself, What do I want to learn about today? Where would I like to go? Who would I like to spend the day with? It's a delicious way to shape my day and my life.

Sometimes our years of hiding our authentic selves from others just to fit in and exceed in our careers has been so successful, that we no longer have access to our own voice. This is a time to unapologetically give ourselves permission to do those things we've put away and hidden from ourselves — so unlike my father, we don't die with the music still left inside us.