by Erica Ross-Krieger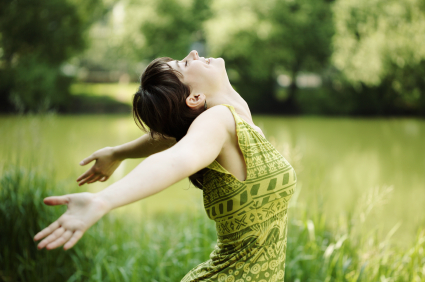 I was in the midst of writing the last post of my 2008's Cornucopia of Resources Series today. I was stressing out to get the post up and give you the list of books I've found inspirational this year.
Somewhere along the way, I caught myself tensed up, hunched over the keyboard, with shallow breathing and a furrowed brow (familiar at all?). Noticing this, I stopped. I took a deep breath, pushed back from the computer and went to get a glass of water. A few more deep breaths and that glass of water later, and I vowed to re-enter my office with another mindset..or rather, another "heart-set." I reminded myself to slow down and write from my heart.
When I returned to my desk, I took another minute out to check my email in-box. And there it was. An email from my friends at Spring Forest QiGong (SFQ), containing a special gift – a 15 minute meditation form SFQ founder, Chunyi Lin called, "Open Your Heart, Change Your World."  I had just affirmed I'd go about my writing with and open heart, and so I took 15 minutes out right then and there to close my eyes and listen to the meditation.
Chunyi Lin's meditation did indeed help me to Open my Heart and Change my World.
I'd like to pass the message and the meditation on to you.
Click this underlined phrase here to listen.
And be sure to read the note below that came from Chunyi Lin along with his gift.
Enjoy!
Hello Friends:

Many of us are impacted by the troubles in our world as this year draws to a close and are looking for better ways to cope with the challenges in the coming year – be they economic, emotional, physical or spiritual.

At Spring Forest Qigong, we wondered what we could do to help. We decided to create a special healing meditation by Master Chunyi Lin as our gift to you and to others this holiday season. It's our hope that this free 15 minute meditation might be useful to many.

This podcast is our gift to everyone. All you need do is download and listen. After listening we hope you will want to share it with everyone you know.

Imagine what would happen if 1,000, or 1 million, or 1 billion people practiced this simple, openhearted exercise every day. We would change our world!

In peace,

Your Spring Forest Friends
http://www.springforestqigong.com/
On my end, I'll get back to working on the inspirational books post and have it for you soon. For now though, I hope you take time out to enjoy this meditation. There's no better resource I know at this moment, to help you open your heart and change your world.
p.s. I am not an affiliate or in any way compensated by SFQ. I am simply an advocate of their wonderful work in the world.
———–
Call me to set up a 30-minute wellness coaching session during the holidays. You'll be sure to find the peaceful oasis within your own heart. 925-933-7445