by Erica Ross-Krieger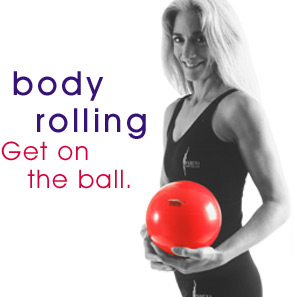 I recently discovered a wonderful new fitness/wellness routine that relies on specially designed 6"-10" inflatable balls. It's called Yamuna Body Rolling (YBR). Yamuna (Ya-men-ah) is the name of the brilliant woman who developed the Body Rolling approach.
What I love about YBR is that the unique system provides health, fitness and massage-all "rolled" into one. The balls deflate and take up little space in a suitcase, so it's great for entrepreneurs that do a lot of travel. There's also a set of "Foot Savers" that you can bring along on the plane to promote circulation and massage your feet while in flight.
A brief description of the YBR method from their website: "YBR is a revolutionary approach to health and fitness that creates both positive and long lasting changes in your body. Unlike other ball exercises, the YBT approach goes far beyond random movements and stretches. The YBT method is comprised of various routines that match the body's own logic and order to re-educate muscles and stimulate bone." Read more on the YBR website.
I'm pretty fussy about my fitness routine. So I was skeptical when I first heard of this one. But I bought a set of the balls and Foot Savers and got started. I like what I am seeing so far, and it just feels good…both signs that this routine will be with me for the long run.
Check out the YBR website and try the system for yourself. Keep us posted about your experience.